Theo tin Antennas Direct
It's an antenna that's a wall frame! Powerful and stylish, multi-directional, UHF/VHF antenna
ST. LOUIS (PRWEB) DECEMBER 12, 2017
Antennas Direct just can't stop, they have reinvented the over-the-air television viewing experience with a powerful, new, and extremely stylish wall frame UHF/VHF indoor HDTV antenna. This month, the company is releasing the ClearStream VIEW™ Wall Frame Amplified Indoor TV Antenna: it's an antenna that's a wall frame.
The beautifully crafted ClearStream VIEW™ HDTV antenna features patented loop technology for advanced signal reception with a 50+ mile range and is multi-directional for both UHF and VHF. Create a wall of memories with the included collage mat that will display nine custom photos.
"We've heard people say that antennas are ugly and they don't want them visible inside their homes. Those complaints became our inspiration for the ClearStream VIEW™," said Richard Schneider, president and founder of Antennas Direct. "Customize your antenna with family photos, or, hey, include a picture of me. I give you permission."
The ClearStream VIEW™ features a deep black finish on the frame for an elegant feel, which extends to the nine photos it will encase. The 14.25 in x 18.75 in (standard 12 in x 16 in glass window) frame displays nine photos with a white collage mat to include four 3.5 in x 5.0 in photos, two 3.5 in x 4.0 in photos, two 3.4 in x 3.5 in photos and one 3.5 in x 5.5 in photo. The back of the frame features unique slide-locks which allow easy access to add and replace your photos and has a convenient, built-in keyhole to hang it in a horizontal position. The ClearStream VIEW™ also comes with a 20dB in-line USB amplifier system that provides added range and maximum signal reception.
"In the past, you've had to choose between an attractive TV antenna and one that works. We made it easy, so now you can have both. You shouldn't have to choose. You deserve the best, so don't make any sacrifices," said Schneider.
The ClearStream VIEW™ will be available for purchase at antennasdirect.com on December 15th. Learn more about the ClearStream VIEW™ Wall Frame Amplified Indoor TV Antenna at http://www.antennasdirect.com/VIEW.
About Antennas Direct
Antennas Direct is the #1 LEADER in antenna technology, reinventing the antenna for the digital era and dominating the market. With a heritage in over-the-air antennas specifically tuned for core DTV frequencies, Antennas Direct has invested major resources into the discovery and implementation of new antenna designs for digital reception. Founded in 2003, the firm is a member of the Inc. 500|5000 Hall of Fame and Future of TV Coalition. Visit antennasdirect.com for more information.
Antennas Direct will make a limited number of evaluation units available to media upon request. Units will begin shipping the week of December 11th. Contact Erica Skrivan, Erica@kolbeco.net, to receive a unit for review.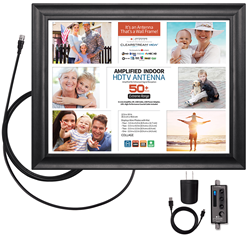 http://www.prweb.com/releases/2017/12/prweb15003361.htm