Theo tin Antennas Direct
The ClearStream MAX antennas have been re-engineered to receive a greater range of frequencies and simple assembly
ST. LOUIS, MISSOURI (PRWEB) MAY 03, 2017
For over 14 years, Antennas Direct has been a leader in reinventing the over-the-air television viewing experience. This month, the company continues the tradition with the release of their latest range of indoor and outdoor TV antennas, the ClearStream 1MAX™, ClearStream 2MAX™ and ClearStream 4MAX™. The MAX series of TV antennas feature little to no assembly, and have scientifically out-performed the competition for reliable long range TV reception.
"Just when we thought we couldn't get any better, our trusted scientists and cord cutting nerds reassured us that we could," says Richard Schneider, president and founder of Antennas Direct. "After reviewing customer feedback, we've had the opportunity to improve the most advanced TV antennas and make them the most powerful, and user friendly, on the market. Because we, unlike the pay-TV companies, care about you. We truly do."
The MAX series TV antennas are ideal for urban, suburban and rural areas where heavy foliage or roofing material reduce the incoming signal. The dedicated UHF and VHF multi-directional elements deliver range and reception in less than ideal locations. The 1MAX™ has a reception distance of 40 miles, the 2MAX™ has a reception distance of 60 miles and the 4MAX™ has a reception distance of 70 miles. The MAX antenna series are made for strength, with corrosion resistant materials and maintenance-free ruggedness to withstand 100 mph winds. All three models are easy to install, with no aiming necessary.
"As families continue to cut ties from their cable companies, our goal is to continue creating products for our customers that are both appealing and efficient," said Schneider. "We're not only rescuing cord cutters from unreliable cable services, but we're producing the best high definition television antenna for our consumer to receive TV programming for free and without the struggle and stress of assembly and installation."
The ClearStream MAX series will be available for purchase on the Antennas Direct website and in-stores at major retailers such as Best Buy, Walmart, and Lowe's by the end of June. Learn more about the MAX series at https://www.antennasdirect.com/clearstream-max-tv-antennas.html.
About Antennas Direct
Antennas Direct is the #1 LEADER in antenna technology, reinventing the antenna for the digital era and dominating the market. With a heritage in over-the-air antennas specifically tuned for core DTV frequencies, Antennas Direct has invested major resources into the discovery and implementation of new antenna designs for digital reception. Founded in 2003, the firm is a member of the Inc. 500|5000 Hall of Fame and Future of TV Coalition. Visit antennasdirect.com for more information.
###
*Antennas Direct will make a limited number of evaluation units available to media upon request. Units will begin shipping the week of May 8th. Contact Erica Skrivan, Erica(at)kolbeco(dot)net, to receive a unit for review.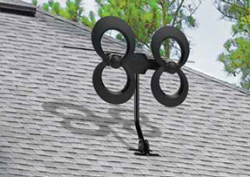 http://www.prweb.com/releases/2017/05/prweb14302600.htm