Theo tin Grand View Research, Inc. hay prnewswire.com
Smart TV Market Analysis By Resolution (4K UHD TV, HDTV, Full HD TV, 8K TV), By Screen Size (Below 32 Inches, 32-45, 46-55, 56-65, Above 65 Inches), By Screen Type, By Region, And Segment Forecasts, 2014 – 2025
Industry Insights
The global smart TV market size was valued at USD 135.51 billion in 2016. The shifting consumer preferences toward online content as a result of growing proliferation of high-speed internet in most parts of the world is providing an impetus to the industry growth. Several providers are teaming up with streaming device manufacturers to gain a foothold on the market. For instance, Sharp Corporation has incorporated Roku in its smart TV sets so that customers can personalize the screens of their TV sets and access the Roku channel store.
Increased popularity of smart TVs has affected the cable TV market as well as the set-top-box and the conventional television platforms to a certain degree, especially in the developed countries. On the other hand, the growing demand for online streaming has opened opportunities for service providers to venture into the Over the Top (OTT) space and distribute content via the Internet.
Key players are focusing on manufacturing their own LED panels to reduce the resultant cost of the television sets. For instance, Samsung Electronics Co. Ltd. and LG Electronics, Inc. manufacture their own panels to obtain a competitive advantage over their competitors. However, Sony Corporation and Panasonic Corporation procure these panels from LG Display Co., Ltd. and Sharp Corporation. In January 2017, LG Display and Sony Corporation signed a supply contract to provide OLED panels to the latter, leading to fierce competition between OLED and QLED display televisions.
Resolution Insights
4K smart televisions are gaining traction particularly because of their declining prices. According to Consumer Technology Association (CTA), the sale of these televisions is outpacing that of HDTVs. For instance, LG Electronics, Inc., Samsung Electronics Co., Ltd., and Sony Corporation have adopted the nanotechnology and the quantum dot technology, to improve the picture quality.
In 2017, Samsung Electronics Co., Ltd. introduced a complete line-up of televisions featuring the QLED technology. The upgraded QLED technology can enhance the color accuracy and produce brighter colors with larger color volume. Currently, OLED screens are costlier than QLED screens as they are relatively difficult to produce.
The advent of new display technologies such as QLED and OLED has led to a decline in LCD panel manufacturing. Several manufacturers have already withdrawn the production of LCD panels. For example, in September 2016, Panasonic Corporation discontinued the production of its LCD panels as it was no more profitable for the company.
Screen Size Insights
The plummeting prices and the installation of 4K technology have triggered a shift in the consumers' screen size preferences. Lured by attractive pricing and features, the consumers are gradually shifting to larger display screens.
The 46 to 55-inch display category is expected to dominate the market. The 4K display technology is recommended for larger TV sets if the customers were to experience the enhanced picture quality. Smaller screen sizes might not be able to represent the improvements in the picture quality delivered by the 4K technology. For instance, to address the growing preference of large-screen displays, Samsung Electronics Co., Ltd. introduced a complete line up of 4K televisions ranging from 55 inches to 85 inches. In January 2017, Sony Corporation launched its line-up of OLED Bravia 4K sets in the sizes of 55 inches, 65 inches, and 77 inches.
A sizeable number of consumers initially planning to purchase 55-inch TV sets do not hesitate to invest further and opt for 65-inch displays on account of the relatively insignificant difference in prices of the two categories. The spending on next-generation large screen televisions is expected to increase in regions such as the Middle East and Asia Pacific.
Screen Type Insights
The flat display segment dominated the industry and raked in a revenue of over USD 127 billion in 2016 globally. The trend can be attributed to high cost of the curved panels. The viewers prefer a flat screen instead of a curved screen as the latter creates a mirror effect, whereby the light shining off the display covers the content. Also, the curvature makes it difficult to mount the TV on the wall.
However, the companies are also focusing on manufacturing curved panels in addition to the flat panels because the curved screens provide more immersive and better viewing angles as compared to their flat counterparts. They also mitigate picture degradation as the viewing angle makes it easier to view more of an image from off to the side. Besides, the vendors have also introduced flexible TVs that can serve as flat as well as curved TVs.
Regional Insights
The Asia Pacific region dominated the smart TV market with a revenue share of over 30% in 2016. There is a rise in the regional demand for 4K televisions as customers are choosing UHD TVs due to their sleek design and better image quality. The rising demand for these sets has created opportunities for the content providers to deliver content in better resolution and recording facilities that can support 4K technology.
China dominated the market, supported by the emergence of new entrants such as Hisense Co., Ltd. and TCL Corporation, who made the competition fierce for the major players. A few Chinese brands such as TCL Corporation have also entered the North American region, thereby ensuring a global coverage for these brands. For instance, TCL Corporation partnered with Roku, Inc.to build and distribute a line of co-branded smart TV called TCL Roku TV. Moreover, the company was the official smart TV sponsor in The Ellen DeGeneres Show. It also announced a partnership with UCLA Athletics and became an official sponsor of the Bruins football and basketball teams.
Competitive Insights
The key players in the market include LG Electronics, Inc., Panasonic Corporation, Samsung Electronics Co. Ltd., Sony Corporation, and Videocon Industries Limited.
In spite of the presence of major and reputed brands, Chinese manufacturers are entering the market with innovative products at affordable prices. Hisense Group, TCL Corporation., and Haier Electronics Group Co, Ltd. are the leading Chinese manufacturers offering this technology.
Moreover, manufacturers are launching a complete line-up of smart TVs to compete in the market. For instance, Samsung Electronics Co. Ltd. has its own line of QLEDs while Sony Corporation and LG Electronics, Inc. also have their own series of OLEDs. However, other players, such as Micromax Informatics, TCL Corporation, and Sansui Electric Co., Ltd., are facing a threat from new players foraying into the industry. The products offered by new entrants are cheaper than those offered by major players by approximately USD 32 to USD 156 (depending on the screen size).
Manufacturers are installing built-in features as well as applications running either on their own operating systems or the Android OS so that viewers can access all popular social media applications. There is also a rising trend among manufacturers to develop their own operating systems. For instance, in December 2016, LG Electronics, Inc. launched a smart TV with the WebOS 3.0 operating system with innovative features such as magic zoom, magic mobile connection, and a magic remote.
Report Scope
Attribute
Details
Base year for estimation
2016
Forecast period
2017 – 2025
Market representation
Market revenue in USD Billion, Volume in Million Units, and CAGR from 2017 to 2025
Regional scope
North America, Europe, Asia Pacific, Latin America, and MEA
Country scope
U.S., Canada, UK, Germany, China, India, Japan, Brazil, and Mexico
Report coverage
Revenue forecast, company share, competitive landscape, growth factors, and trends
15% free customization scope (equivalent to five analyst working days)
If you need specific market information that is not currently within the scope of the report, we will provide it to you as a part of the customization.
Segments Covered in the Report
This report forecasts revenue growths at global, regional, and country levels and provides an analysis of the industry trends in each of the sub-segments from 2016 to 2025. For the purpose of this study, Grand View Research has segmented the global smart TV market based on resolution, screen size, screen type, and region.
Resolution Outlook (Revenue and Volume; 2014 – 2025)
4K UHD TV
HDTV
Full HD TV
8K TV
Screen Size Outlook (Revenue and Volume; 2014 – 2025)
Below 32 inches
32 to 45 inches
46 to 55 inches
56 to 65 inches
Above 65 inches
Screen Type Outlook (Revenue and Volume; 2014 – 2025)
Flat
Curved
Regional Outlook (Revenue and Volume; 2014 – 2025)
North America
U.S.
Canada
Europe
Germany
UK
Asia Pacific
China
India
Japan
Latin America
Brazil
Mexico
MEA
Read Our Blog By Grand View Research: http://www.grandviewresearch.com/blogs/semiconductors-and-electronics
About Grand View Research
Grand View Research, Inc. is a U.S. based market research and consulting company, registered in the State of California and headquartered in San Francisco. The company provides syndicated research reports, customized research reports, and consulting services. To help clients make informed business decisions, we offer market intelligence studies ensuring relevant and fact-based research across a range of industries, from technology to chemicals, materials and healthcare.
Contact:
Sherry James
Corporate Sales Specialist, USA
Grand View Research, Inc
Phone: +1-415-349-0058
Toll Free: 1-888-202-9519
Email: sales@grandviewresearch.com
Web: http://www.grandviewresearch.com
SOURCE Grand View Research, Inc.
Table of Contents
Chapter 1 Methodology and Scope
1.1 Research Methodology
1.2 Research Scope and Assumptions
1.3 List of Data Sources
Chapter 2 Executive Summary
2.1 Smart TV – Industry Snapshot & Key Buying Criteria, 2015 – 2025
Chapter 3 Smart TV Industry Outlook
3.1 Market Segmentation & Scope
3.2 Smart TV Market Size and Growth Prospects
3.3 Smart TV – Value Chain Analysis
3.4 Smart TV – Market Dynamics
3.4.1 Driver analysis
3.4.1.1 Increase in the usage of streaming devices and internet
3.4.1.2 Introduction of TV resolutions in 4K, UHD, and 8K
3.4.2 Market restraint analysis
3.4.2.1 Rise in Over the Top(OTT) services
3.5 Key Opportunities- Prioritized
3.6 Smart TV – Key Company Analysis, 2016
3.7 Smart TV – Porter's Five Forces Analysis
3.8 Smart TV – PEST Analysis
Chapter 4 Resolution Estimates & Trend Analysis
4.1 Market Size Estimates & Forecasts and Trend Analysis, 2014 – 2025 (Revenue and Volume)
4.2 Smart TV Market: Resolution Movement Analysis
4.2.1 4K UHD TV
4.2.1.1 Market estimates & forecasts by region, 2014 – 2025 (USD Billion)
4.2.2 HDTV
4.2.2.1 Market estimates & forecasts by region, 2014 – 2025 (USD Billion)
4.2.3 Full HD TV
4.2.3.1 Market estimates & forecasts by region, 2014 – 2025 (USD Billion)
4.2.4 8K TV
4.2.4.1 Market estimates & forecasts by region, 2014 – 2025 (USD Billion)
Chapter 5 Screen Size Estimates & Trend Analysis
5.1 Market Size Estimates & Forecasts and Trend Analysis, 2014 – 2025 (Revenue and Volume)
5.2 Smart TV Market: Screen Size Movement Analysis
5.2.1 Below 32 inches
5.2.1.1 Market estimates & forecasts by region, 2014 – 2025 (USD Billion)
5.2.2 32 to 45 inches
5.2.2.1 Market estimates & forecasts by region, 2014 – 2025 (USD Billion)
5.2.3 46 to 55 inches
5.2.3.1 Market estimates & forecasts by region, 2014 – 2025 (USD Billion)
5.2.4 56 to 65 inches
5.2.4.1 Market estimates & forecasts by region, 2014 – 2025 (USD Billion)
5.2.5 Above 65 inches
5.2.2.1 Market estimates & forecasts by region, 2014 – 2025 (USD Billion)
Chapter 6 Screen Type Estimates & Trend Analysis
6.1 Market Size Estimates & Forecasts and Trend Analysis, 2014 – 2025 (Revenue and Volume)
6.2 Smart TV Market: Screen Size Movement Analysis
6.2.1 Flat
6.2.1.1 Market estimates & forecasts by region, 2014 – 2025 (USD Billion)
6.2.2 Curved TV
6.2.2.1 Market estimates & forecasts by region, 2014 – 2025 (USD Billion)
Chapter 7 Regional Estimates & Trend Analysis
7.1 Market Size Estimates & Forecasts and Trend Analysis, 2014 – 2025 (Revenue, USD Billion)
7.2 Smart TV Market Share by Region, 2015 & 2025
7.3 North America
7.3.1 Market estimates & forecasts by resolution, 2014 – 2025 (USD Billion)
7.3.2 Market estimates & forecasts by screen size, 2014 – 2025 (USD Billion)
7.3.3 Market estimates & forecasts by screen type, 2014 – 2025 (USD Billion)
7.3.4 U.S.
7.3.4.1 Market estimates & forecasts by resolution, 2014 – 2025 (USD Billion)
7.3.4.2 Market estimates & forecasts by screen size, 2014 – 2025 (USD Billion)
7.3.4.3 Market estimates & forecasts by screen type, 2014 – 2025 (USD Billion)
7.3.5 Canada
7.3.5.1 Market estimates & forecasts by resolution, 2014 – 2025 (USD Billion)
7.3.5.2 Market estimates & forecasts by screen size, 2014 – 2025 (USD Billion)
7.3.5.3 Market estimates & forecasts by screen type, 2014 – 2025 (USD Billion)
7.4 Europe
7.4.1 Market estimates & forecasts by resolution, 2014 – 2025 (USD Billion)
7.4.2 Market estimates & forecasts by screen size, 2014 – 2025 (USD Billion)
7.4.3 Market estimates & forecasts by screen type, 2014 – 2025 (USD Billion)
7.4.4 Germany
7.4.4.1 Market estimates & forecasts by resolution, 2014 – 2025 (USD Billion)
7.4.4.2 Market estimates & forecasts by screen size, 2014 – 2025 (USD Billion)
7.4.4.3 Market estimates & forecasts by screen type, 2014 – 2025 (USD Billion)
7.4.5 UK
7.4.5.1 Market estimates & forecasts by resolution, 2014 – 2025 (USD Billion)
7.4.5.2 Market estimates & forecasts by screen size, 2014 – 2025 (USD Billion)
7.4.5.3 Market estimates & forecasts by screen type, 2014 – 2025 (USD Billion)
7.5 Asia Pacific
7.5.1 Market estimates & forecasts by resolution, 2014 – 2025 (USD Billion)
7.5.2 Market estimates & forecasts by screen size, 2014 – 2025 (USD Billion)
7.5.3 Market estimates & forecasts by screen type, 2014 – 2025 (USD Billion)
7.5.4 China
7.5.4.1 Market estimates & forecasts by resolution, 2014 – 2025 (USD Billion)
7.5.4.2 Market estimates & forecasts by screen size, 2014 – 2025 (USD Billion)
7.5.4.3 Market estimates & forecasts by screen type, 2014 – 2025 (USD Billion)
7.5.5 India
7.5.5.1 Market estimates & forecasts by resolution, 2014 – 2025 (USD Billion)
7.5.5.2 Market estimates & forecasts by screen size, 2014 – 2025 (USD Billion)
7.5.5.3 Market estimates & forecasts by screen type, 2014 – 2025 (USD Billion)
7.5.6 Japan
7.5.6.1 Market estimates & forecasts by resolution, 2014 – 2025 (USD Billion)
7.5.6.2 Market estimates & forecasts by screen size, 2014 – 2025 (USD Billion)
7.5.6.3 Market estimates & forecasts by screen type, 2014 – 2025 (USD Billion)
7.6 Latin America
7.6.1 Market estimates & forecasts by resolution, 2014 – 2025 (USD Billion)
7.6.2 Market estimates & forecasts by screen size, 2014 – 2025 (USD Billion)
7.6.3 Market estimates & forecasts by screen type, 2014 – 2025 (USD Billion)
7.6.4 Brazil
7.6.4.1 Market estimates & forecasts by resolution, 2014 – 2025 (USD Billion)
7.6.4.2 Market estimates & forecasts by screen size, 2014 – 2025 (USD Billion)
7.6.4.3 Market estimates & forecasts by screen type, 2014 – 2025 (USD Billion)
7.6.5 Mexico
7.6.5.1 Market estimates & forecasts by resolution, 2014 – 2025 (USD Billion)
7.6.5.2 Market estimates & forecasts by screen size, 2014 – 2025 (USD Billion)
7.6.5.3 Market estimates & forecasts by screen type, 2014 – 2025 (USD Billion)
7.7 MEA
7.7.1 Market estimates & forecasts by resolution, 2014 – 2025 (USD Billion)
7.7.2 Market estimates & forecasts by screen size, 2014 – 2025 (USD Billion)
7.7.3 Market estimates & forecasts by screen type, 2014 – 2025 (USD Billion)
Chapter 8 Competitive Landscape
8.1 List of Market Participants
8.2 Haier Electronics Group Co., Ltd.
8.2.1 Company overview
8.2.2 Financial performance
8.2.3 Product benchmarking
8.2.4 Recent developments
8.3 Intex Technologies
8.3.1 Company overview
8.3.2 Financial performance
8.3.3 Product benchmarking
8.3.4 Recent developments
8.4 LeEco
8.4.1 Company overview
8.4.2 Product benchmarking
8.4.3 Recent developments
8.5 LG Electronics, Inc.
8.5.1 Company overview
8.5.2 Financial performance
8.5.3 Product benchmarking
8.5.4 Recent developments
8.6 Panasonic Corporation
8.6.1 Company overview
8.6.2 Financial performance
8.6.3 Product benchmarking
8.6.4 Recent developments
8.7 Koninklijke Philips N.V.
8.7.1 Company overview
8.7.2 Financial performance
8.7.3 Product benchmarking
8.7.4 Recent developments
8.8 Samsung Electronics Co. Ltd.
8.8.1 Company overview
8.8.2 Financial performance
8.8.3 Product benchmarking
8.8.4 Recent developments
8.9 Sansui Electric Co. Ltd.
8.9.1 Company overview
8.9.2 Product benchmarking
8.9.3 Recent developments
8.10 Sony Corporation
8.10.1 Company overview
8.10.2 Financial performance
8.10.3 Product benchmarking
8.10.4 Recent developments
8.11 Toshiba Corporation
8.11.1 Company overview
8.11.2 Financial performance
8.11.3 Product benchmarking
8.11.4 Recent developments
8.12 Videocon Industries Limited
8.12.1 Company overview
8.12.2 Financial performance
8.12.3 Product benchmarking
8.12.4 Recent developments
List of Tables
TABLE 1 Smart TV – Industry snapshot & key buying criteria, 2016 – 2025
TABLE 2 Global smart TV market, 2014 – 2025 (USD Billion)
TABLE 3 Global smart TV market, 2014 – 2025 (Million Units)
TABLE 4 Global smart TV market by region, 2014 – 2025 (USD Billion)
TABLE 5 Global smart TV market by region, 2014 – 2025 (Million Units)
TABLE 6 Global smart TV market estimates and forecasts by resolution, 2014 – 2025 (USD Billion)
TABLE 7 Global smart TV market estimates and forecasts by resolution, 2014 – 2025 (Million Units)
TABLE 8 Global smart TV market estimates and forecasts by screen size, 2014 – 2025 (USD Billion)
TABLE 9 Global smart TV market estimates and forecasts by screen size, 2014 – 2025 (Million Units)
TABLE 10 Global smart TV market estimates and forecasts by screen type, 2014 – 2025 (USD Billion)
TABLE 11 Global smart TV market estimates and forecasts by screen type, 2014 – 2025 (Million Units)
TABLE 12 Smart TV market – Key market driver impact
TABLE 13 Smart TV market – Key market restraint impact
TABLE 14 Global 4K UHD TV market by region, 2014 – 2025 (USD Billion)
TABLE 15 Global HDTV market by region, 2014 – 2025 (USD Billion)
TABLE 16 Global Full HD TV market by region, 2014 – 2025 (USD Billion)
TABLE 17 Global 8K TV market by region, 2014 – 2025 (USD Billion)
TABLE 18 Global smart TV market, below 32 inches, by region, 2014 – 2025 (USD Billion)
TABLE 19 Global smart TV market, 32 to 45 inches by region, 2014 – 2025 (USD Billion)
TABLE 20 Global smart TV market, 46 to 55 inches by region, 2014 – 2025 (USD Billion)
TABLE 21 Global smart TV market, 56 to 65 inches by region, 2014 – 2025 (USD Billion)
TABLE 22 Global smart TV market, above 65 inches by region, 2014 – 2025 (USD Billion)
TABLE 23 Global flat TV market by region, 2014 – 2025 (USD Billion)
TABLE 24 Global curved TV market by region, 2014 – 2025 (USD Billion)
TABLE 25 North America smart TV market by resolution 2014 – 2025 (USD Billion)
TABLE 26 North America smart TV market by screen size, 2014 – 2025 (USD Billion)
TABLE 27 North America smart TV market by screen type, 2014 – 2025 (USD Billion)
TABLE 28 U.S. smart TV market by resolution 2014 – 2025 (USD Billion)
TABLE 29 U.S. smart TV market by screen size, 2014 – 2025 (USD Billion)
TABLE 30 U.S. smart TV market by screen type, 2014 – 2025 (USD Billion)
TABLE 31 Canada smart TV market by resolution 2014 – 2025 (USD Billion)
TABLE 32 Canada smart TV market by screen size, 2014 – 2025 (USD Billion)
TABLE 33 Canada smart TV market by screen type, 2014 – 2025 (USD Billion)
TABLE 34 Europe smart TV market by resolution 2014 – 2025 (USD Billion)
TABLE 35 Europe smart TV market by screen size, 2014 – 2025 (USD Billion)
TABLE 36 Europe smart TV market by screen type, 2014 – 2025 (USD Billion)
TABLE 37 Germany smart TV market by resolution 2014 – 2025 (USD Billion)
TABLE 38 Germany smart TV market by screen size, 2014 – 2025 (USD Billion)
TABLE 39 Germany smart TV market by screen type, 2014 – 2025 (USD Billion)
TABLE 40 UK smart TV market by resolution 2014 – 2025 (USD Billion)
TABLE 41 UK smart TV market by screen size, 2014 – 2025 (USD Billion)
TABLE 42 UK smart TV market by screen type, 2014 – 2025 (USD Billion)
TABLE 43 Asia Pacific smart TV market by resolution 2014 – 2025 (USD Billion)
TABLE 44 Asia Pacific smart TV market by screen size, 2014 – 2025 (USD Billion)
TABLE 45 Asia Pacific smart TV market by screen type, 2014 – 2025 (USD Billion)
TABLE 46 China smart TV market by resolution 2014 – 2025 (USD Billion)
TABLE 47 China smart TV market by screen size, 2014 – 2025 (USD Billion)
TABLE 48 China smart TV market by screen type, 2014 – 2025 (USD Billion)
TABLE 49 India smart TV market by resolution 2014 – 2025 (USD Billion)
TABLE 50 India smart TV market by screen size, 2014 – 2025 (USD Billion)
TABLE 51 India smart TV market by screen type, 2014 – 2025 (USD Billion)
TABLE 52 Japan smart TV market by resolution 2014 – 2025 (USD Billion)
TABLE 53 Japan smart TV market by screen size, 2014 – 2025 (USD Billion)
TABLE 54 Japan smart TV market by screen type, 2014 – 2025 (USD Billion)
TABLE 55 Latin America smart TV market by resolution 2014 – 2025 (USD Billion)
TABLE 56 Latin America smart TV market by screen size, 2014 – 2025 (USD Billion)
TABLE 57 Latin America smart TV market by screen type, 2014 – 2025 (USD Billion)
TABLE 58 Brazil smart TV market by resolution 2014 – 2025 (USD Billion)
TABLE 59 Brazil smart TV market by screen size, 2014 – 2025 (USD Billion)
TABLE 60 Brazil smart TV market by screen type, 2014 – 2025 (USD Billion)
TABLE 61 Mexico smart TV market by resolution 2014 – 2025 (USD Billion)
TABLE 62 Mexico smart TV market by screen size, 2014 – 2025 (USD Billion)
TABLE 63 Mexico smart TV market by screen type 2014 – 2025 (USD Billion)
TABLE 64 MEA smart TV market by resolution 2014 – 2025 (USD Billion)
TABLE 65 MEA smart TV market by screen size, 2014 – 2025 (USD Billion)
TABLE 66 MEA smart TV market by screen type, 2014 – 2025 (USD Billion)
List of Figures
FIG. 1 Industry snapshot – Smart TV market
FIG. 2 Market segmentation & scope
FIG. 3 Smart TV market size and growth prospects (USD Million)
FIG. 4 Smart TV – Value chain analysis
FIG. 5 Smart TV – Market dynamics
FIG. 6 Key Opportunities Prioritized
FIG. 7 Key company analysis
FIG. 8 Smart TV – Porter's five forces analysis
FIG. 9 Smart TV – PEST analysis
FIG. 10 Smart TV resolution outlook key takeaways
FIG. 11 Smart TV market: Resolution movement analysis
FIG. 12 Global 4K UHD TV market, 2014 – 2025 (Revenue and Volume)
FIG. 13 Global HDTV market, 2014 – 2025 (Revenue and Volume)
FIG. 14 Global Full HD TV market, 2014 – 2025 (Revenue and Volume)
FIG. 15 Global 8K TV market, 2014 – 2025 (Revenue and Volume)
FIG. 16 Smart TV screen size outlook key takeaways
FIG. 17 Smart TV market: screen size movement analysis
FIG. 18 Global smart TV market, below 32 inches by region, 2014 – 2025 (Revenue and Volume)
FIG. 19 Global smart TV market, 32 to 45 inches, by region, 2014 – 2025 (Revenue and Volume)
FIG. 20 Global smart TV market, 46 to 55 inches by region, 2014 – 2025 (Revenue; and Volume)
FIG. 21 Global smart TV market, 56 to 65 inches by region, 2014 – 2025 (Revenue and Volume)
FIG. 22 Global smart TV market, above 65 inches by region, 2014 – 2025 (Revenue and Volume)
FIG. 23 Smart TV market screen type outlook key takeaways
FIG. 24 Smart TV market: screen type movement analysis
FIG. 25 Global flat TV market by region, 2014 – 2025 (Revenue and Volume)
FIG. 26 Global curved TV market by region, 2014 – 2025 (Revenue and Volume)
FIG. 27 Regional marketplace: Key takeaways
FIG. 28 Regional outlook, 2016 & 2025
FIG. 29 North America smart TV market, 2014 – 2025 (USD Billion)
FIG. 30 North America smart TV market by resolution, 2014 – 2025 (USD Billion)
FIG. 31 North America smart TV market by screen size, 2014 – 2025 (USD Billion)
FIG. 32 North America smart TV market by screen type, 2014 – 2025 (USD Billion)
FIG. 33 U.S smart TV market by resolution, 2014 – 2025 (USD Billion)
FIG. 34 U.S smart TV market by screen size, 2014 – 2025 (USD Billion)
FIG. 35 U.S smart TV market by screen type, 2014 – 2025 (USD Billion)
FIG. 36 Canada smart TV market by resolution, 2014 – 2025 (USD Billion)
FIG. 37 Canada smart TV market by screen size, 2014 – 2025 (USD Billion)
FIG. 38 Canada smart TV market by screen type, 2014 – 2025 (USD Billion)
FIG. 39 Europe smart TV market, 2014 – 2025 (USD Billion)
FIG. 40 Europe smart TV market by resolution, 2014 – 2025 (USD Billion)
FIG. 41 Europe smart TV market by screen size, 2014 – 2025 (USD Billion)
FIG. 42 Europe smart TV market by screen type, 2014 – 2025 (USD Billion)
FIG. 43 Germany smart TV market by resolution, 2014 – 2025 (USD Billion)
FIG. 44 Germany smart TV market by screen size, 2014 – 2025 (USD Billion)
FIG. 45 Germany smart TV market by screen type, 2014 – 2025 (USD Billion)
FIG. 46 U.K smart TV market by resolution, 2014 – 2025 (USD Billion)
FIG. 47 U.K smart TV market by screen size, 2014 – 2025 (USD Billion)
FIG. 48 U.K smart TV market by screen type, 2014 – 2025 (USD Billion)
FIG. 49 Asia Pacific smart TV market, 2014 – 2025 (USD Billion)
FIG. 50 Asia Pacific smart TV market by resolution, 2014 – 2025 (USD Billion)
FIG. 51 Asia Pacific smart TV market by screen size, 2014 – 2025 (USD Billion)
FIG. 52 Asia Pacific smart TV market by screen type, 2014 – 2025 (USD Billion)
FIG. 53 China smart TV market by resolution, 2014 – 2025 (USD Billion)
FIG. 54 China smart TV market by screen size, 2014 – 2025 (USD Billion)
FIG. 55 China smart TV market by screen type, 2014 – 2025 (USD Billion)
FIG. 56 India smart TV market by resolution, 2014 – 2025 (USD Billion)
FIG. 57 India smart TV market by screen size, 2014 – 2025 (USD Billion)
FIG. 58 India smart TV market by screen type, 2014 – 2025 (USD Billion)
FIG. 59 Japan smart TV market by resolution, 2014 – 2025 (USD Billion)
FIG. 60 Japan smart TV market by screen size, 2014 – 2025 (USD Billion)
FIG. 61 Japan smart TV market by screen type, 2014 – 2025 (USD Billion)
FIG. 62 Latin America smart TV market, 2014 – 2025 (USD Billion)
FIG. 63 Latin America smart TV market by resolution, 2014 – 2025 (USD Billion)
FIG. 64 Latin America smart TV market by screen size, 2014 – 2025 (USD Billion)
FIG. 65 Latin America smart TV market by screen type, 2014 – 2025 (USD Billion)
FIG. 66 Brazil smart TV market by resolution, 2014 – 2025 (USD Billion)
FIG. 67 Brazil smart TV market by screen size, 2014 – 2025 (USD Billion)
FIG. 68 Brazil smart TV market by screen type, 2014 – 2025 (USD Billion)
FIG. 69 Mexico smart TV market by resolution, 2014 – 2025 (USD Billion)
FIG. 70 Mexico smart TV market by screen size, 2014 – 2025 (USD Billion)
FIG. 71 Mexico smart TV market by screen type, 2014 – 2025 (USD Billion)
FIG. 72 MEA smart TV market by resolution, 2014 – 2025 (USD Billion)
FIG. 73 MEA smart TV market by screen size, 2014 – 2025 (USD Billion)
FIG. 74 MEA smart TV market by screen type, 2014 – 2025 (USD Billion)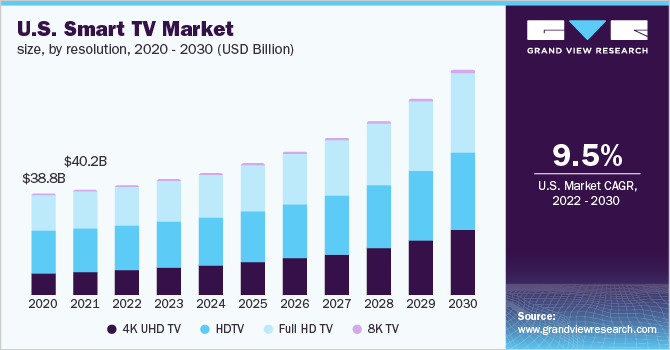 https://www.prnewswire.com/news-releases/smart-tv-market-size-to-reach-29255-billion-by-2025–cagr-95-grand-view-research-inc-654060703.html