Theo tin Antennas Direct
First New Outdoor Element Design in Years Advances Antenna Technology Once Again.
ST. LOUIS (PRWEB) APRIL 03, 2018
In response to a growing market demand for outdoor TV antennas that actually work and are easy to install, Antennas Direct, the pioneers in digital TV antenna technology, went back to the drawing board to design and engineer their latest innovation, the ClearStream FUSION. The ClearStream FUSION is a long-range, multi-directional antenna leveraging their patented, industry-leading technology, allowing it to receive a greater range of frequencies from widely-spaced broadcast towers.
"People love our designs and our technology. We've delivered that with our ClearStream antennas, cutting through all the nonsense in the antenna industry, and backing the performance claims you see on our packaging. We are the only antenna manufacturer able to say that our antennas actually work," said Richard Schneider, President and Founder of Antennas Direct.
The ClearStream FUSION features a revolutionary new element, allowing for both UHF and VHF reception, and boasts a 60-mile range when amplified. It can be installed outdoors or in the attic, and because it's multi-directional, requires no aiming toward a specific broadcast tower. The ClearStream FUSION, like all Antennas Direct antennas, comes with a lifetime warranty.
"When customers see HDTV antennas on the shelf at a store or on a website, many people are confused about what the differences are between the various types of antennas, and instinctively opt for the less expensive model," said Schneider. "In most cases, the primary difference is that cheaper antennas are based on older technology, like you might remember from your grandma's house in years past. They are not engineered for today's DTV frequencies, and some can only receive signals directionally, from one tower, limiting your viewing options."
The outdoor TV antenna market is quickly growing in the electronics industry. Antennas Direct predicts that the introduction of a multi-directional, UHF/VHF outdoor amplified antenna will further evolve this market, allowing for greater performance and customer satisfaction, something that's important to buyers at major retailers.
The ClearStream FUSION will be available for purchase for $99.99 on antennasdirect.com, on Amazon, and at select Walmart stores in May of 2018. It will also hit the Canadian market in June of 2018, when it launches on BestBuy.ca. For more information about the ClearStream FUSION, including technical specifications and additional product images, visit Antennas Direct's website.
About Antennas Direct
Antennas Direct is the #1 LEADER in antenna technology, reinventing the antenna for the digital era and dominating the market. With a heritage in over-the-air antennas specifically tuned for core DTV frequencies, Antennas Direct has invested major resources into the discovery and implementation of new antenna designs for digital reception. Founded in 2003, the firm is a member of the Inc. 500|5000 Hall of Fame and Future of TV Coalition. Visit antennasdirect.com for more information.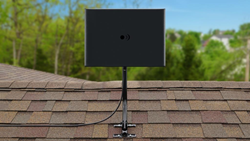 http://www.prweb.com/releases/2018/04/prweb15381121.htm